Southern Vancouver Island is a world-class kayaking destination, with options along its endless, meandering coastline to satisfy every type of paddler.
Although the Island is just a ferry ride away from Vancouver and Washington State, once you've arrived it feels worlds away.
"The waters around Vancouver Island are among the best in the world for sea kayaking," says BJ Porter, Director of the South Island Sea Kayaking Association (SISKA). "From huge straits like Juan de Fuca and Haro, to tiny slots that you can only navigate with careful timing, there is so much variety."
While threading your way through picturesque islands lush with vegetation, you'll simultaneously be treated to awe-inspiring views of snow-capped mountains.
"The coastline is intricate and varies from dramatic cliff faces covered in pink stonecrop and fawn lilies, to long sand beaches and everything in between," Porter says.
A kayaking excursion around southern Vancouver Island not only offers opportunities to explore its stunning beaches, you'll can also experience incredible wildlife encounters.
"The sea life ranges from huge sea lions, orcas and humpbacks on the one hand, to tiny crabs and anemones and colourful sea stars that make you feel you're paddling through an aquarium," Porter says. "Bird life also abounds, with diving ducks, cormorants and so many bald eagles they become (almost) commonplace."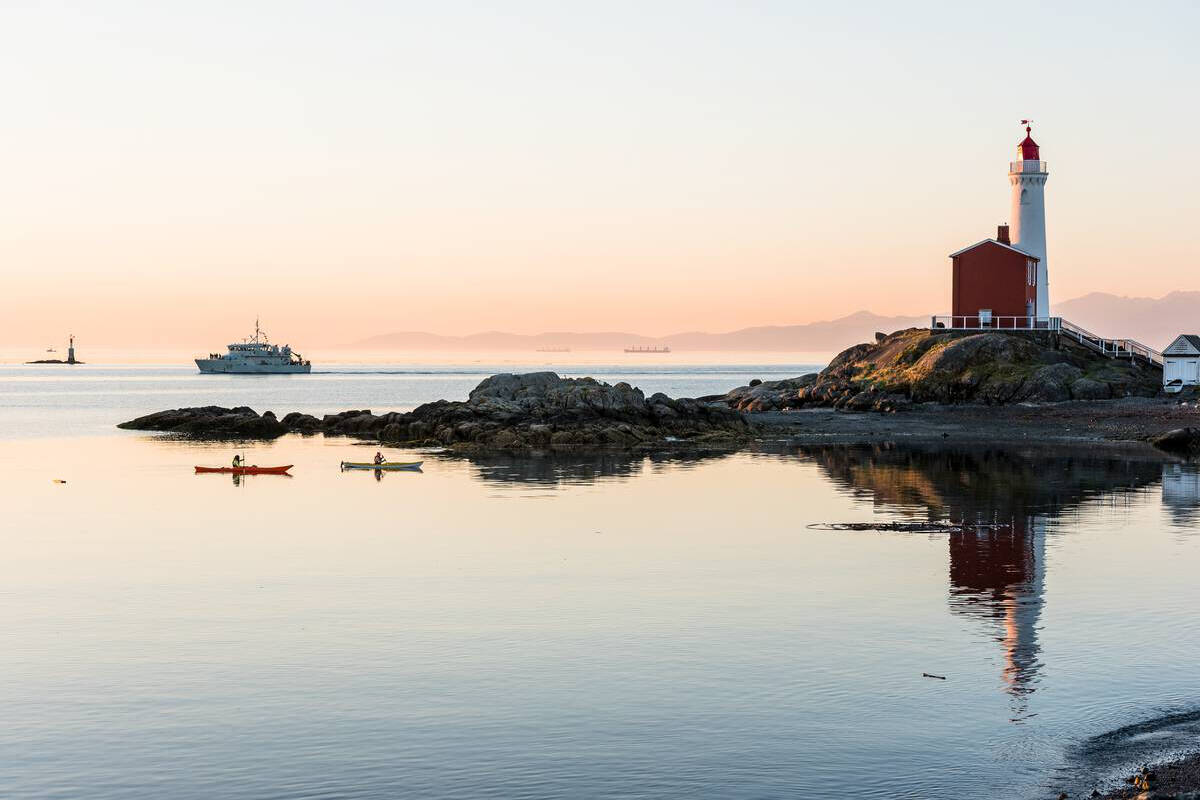 Four exciting kayaking adventures around southern Vancouver Island:
1. Seal Islands to Fisgard Lighthouse
If you've always wanted to meet colonies of harbour seals close-up from your kayak, this is the ideal trip for you.
Launching from a public dock with plenty of parking at Fleming Beach in Esquimalt's Macaulay Point Park, this adventure takes you through several seal colonies on the many islets scattered along the coastline.
Although all of the islands are a wildlife reserve and are off-limits , there are several public beaches you can land on, including Saxe Point and Fisgard Lighthouse. Known as the first lighthouse on the west coast of Canada, this national symbol boasts exhibits, artifacts, children's games and hands-on display panels.
And the views from the lighthouse are incredible – you can see ships at the Canadian Naval Base, Esquimalt Lagoon and Washington's Olympic Mountains across the Strait of Juan de Fuca.
There's only one very small current off Macaulay Point, but do check the forecast for winds and be aware of tide times and heights to avoid submerged rocks. Landing at Fisgard Lighthouse requires paying park fees, so it's best to arrange ahead of time.
"The intricacy of the coastline allows us to choose a somewhat sheltered paddle even when winds are forecast to be very strong, so we never have to miss a day!" Porter says. "However, even if you plan to hug the coastline, it's a good idea to check the marine forecast first. PredictWind or Windy.com are both reliable sources for this."
READ MORE: Expanded camping options coming to southern Vancouver Island this summer
2. Salt Spring Island
Take a half-hour ferry ride from Victoria's Swartz Bay terminal to Fulford Harbour on Salt Spring Island for incredible kayaking adventures. Located in the Gulf Islands between Vancouver Island and the Lower Mainland, this beautiful island offers endless possible launch sites, and a wide variety of wildlife to experience.
"On Salt Spring Island, drive to a launch site on its northeast shore, paddle to Wallace Island and then noodle the nearby islands, ending at Jackscrew Island where a private home has an impressive collection of sculptures and totems," Porter says.
Wallace Island is within Wallace Island Marine Provincial Park, and is located in Trincomali Channel, which offers sheltered paddling opportunities, ideal for day trips and overnight camping, so bring a tent and enjoy a perfectly quiet night! (Be sure to book ahead at one of the three campsites)
Keep your eyes open for mink, black-tailed deer and eagles, as well as seals, sea lions and river otters, all of which can be spotted from offshore.
If you need to rent a kayak, Salt Spring outfitters including Salt Spring Adventures and Kayak Salt Spring, but keep in mind they're both closed for the winter season until April 1.
WATCH: Sandhill cranes an unusual, joyful sight in southern Vancouver Island
3. Albert Head Lagoon
Located in Albert Head Lagoon Regional Park, in the municipality of Metchosin, about a half-hour drive from Victoria, this area is a birder's paradise.
Birds often stop in the park as a resting and feeding destination during their long migrations, and sightings can include lesser yellowlegs, golden-plovers, turkey vultures, short-billed dowitcher and many species of sandpipers.
"If you only have a few hours, depart from Albert Head Lagoon and paddle around Albert Head," Porter says. "Occasionally the tide is high enough that you can visit Sitting Lady Falls in nearby Witty's Lagoon, which also has many small islets to explore, and a large sandy beach. "
The water is a short 50-foot carry from the parking lot, and the headland it's named for is Department of National Defense property, so landing is prohibited in marked areas and at the small dock in the bay.
4. Victoria Waterways Loop
If you're a novice paddler looking for a place to polish your skills, the Victoria Waterways Loop is the perfect place to do it.
"The Victoria Waterways Loop is a very sheltered inland waterway, and is the perfect a place to rent kayaks and experience the sport for the first time without commitment," Porter says.
It's a 22-kilometre circle route, allowing paddlers to complete a one-way trip starting at any number of access points on the Gorge Waterway, Portage Inlet or Victoria Harbour.
If you're not feeling up to paddling the entire loop, you can simply cruise the scenic Gorge Waterway or paddle around the Inner Harbour, taking in spectacular views of Victoria's historic downtown.
For paddlers ready to do the entire loop, be prepared to complete a short 1-km portage across Portage Park in View Royal and the Old Island Highway, then continue your journey back to the starting point.
Kayak rentals are available at several spots along the route, including Kelp Reef Adventures in the Inner Harbour, and Victoria Kayak Tours & Rentals and Ocean River Sports on the Gorge Waterway.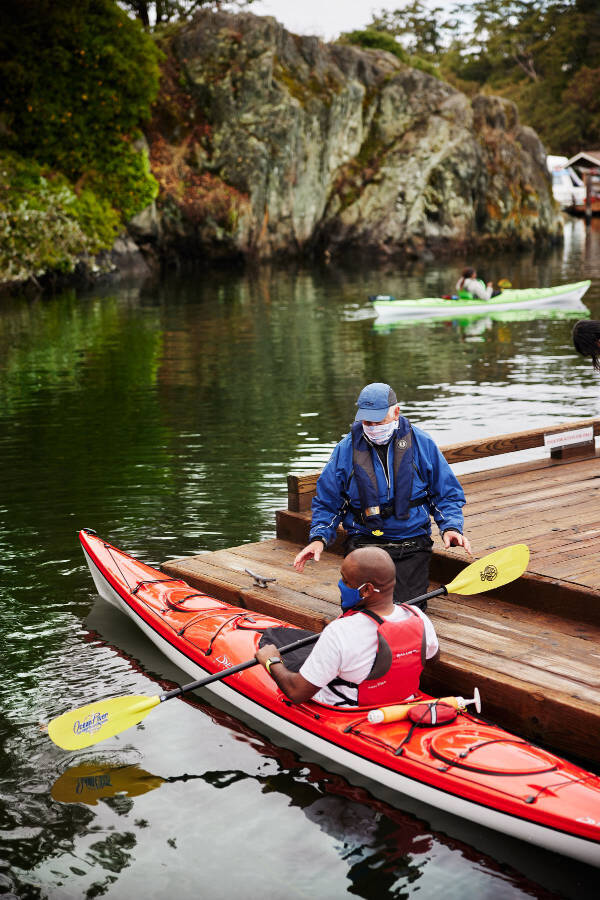 Paddle all winter!
For kayakers visiting southern Vancouver Island, it should be known that although some of the kayak rental businesses close for a few months in the winter, anytime is a great time to explore these amazing spots.
"We can paddle year-round," Porter says. "Although the water temperature remains cold, the air temperature makes it quite a comfortable experience for the most part. Wind certainly can make it less so, and keeping your hands warm enough to function is a challenge, especially putting your kayaks back on your car and doing up the straps at the end of an excursion!"
Stay safe, and practice sustainable tourism
Keep in mind that although kayaking has a very low impact on the environment, it's important to make sure you leave the landscape and wildlife undisturbed, and always clean up after yourself.
"On a dead calm day it's safe for novices to sea kayak in the waters surrounding Vancouver Island, but there are certainly dangers," Porter says. "A calm day can change in a very short time to conditions outside of your comfort zone. The water is ALWAYS too cold for safety unless you are wearing a neoprene wetsuit or drysuit. And don't kayak alone."
The sea kayaking community is full of individuals who are highly skilled and experienced, and generous with their time in mentoring beginners.
If you plan to live on the Island, consider joining a club. SISKA is the largest and most active and there are a plethora of companies whose only passion is to train kayakers to be safe and have fun. Courses or guided trips with them are highly recommended.
Several local businesses offer discounts to SISKA members, including Paddle West Kayaking, Wild Heart Adventures and Wild Root Journeys.
Plan your adventures throughout the West Coast at westcoasttraveller.com and follow us on Facebook and Instagram @thewestcoasttraveller. And for the top West Coast Travel stories of the week delivered right to your inbox, sign up for our weekly Armchair Traveller newsletter!