Growing foods in the desert seems a near impossibility. Yet the Rafael Alonso Aguilera family of Almería in southern Spain have spent the last century farming the lands of the Tabernas Desert.
While the desert climate limits the production of olive trees, it has also contributed to high quality and uniquely regional olive oils. Oro del Desierto's extra virgin olive oils (EVOO) are aromatic, well-balanced and truly deserving of the name "Desert Gold." In the heart of Europe's driest area, Oro del Desierto's olive groves thrive in a microclimate of minimal rainfall and 3000 hours of sunlight.
Even if you've never been to Spain, you've probably seen pictures of the Tabernas Desert without even knowing it. Many of Clint Eastwood's Spaghetti Westerns were filmed there — in fact, some of the old film sets have been restored and turned into a popular tourist attraction!
How to taste quality
The climate influences the olives grown on the estate, producing olives with intense favours and high phenolic levels. Harvesting unripe olives ensures olives with high polyphenols, which have health benefits, prolong shelf life and stabilize EVOO for cooking.
Tasting high quality oils is the best way to educate the consumer. Rafael senior says, "Don't be afraid if the taste is bitter or spicy. That's good news — it means the EVOO is full of natural antioxidants called Polyphenols." Phenolic levels vary and depend on factors such as terroir, fruit ripeness, climatic conditions.
The lack of water in the Tabernas Desert means that Oro's agronomic yield is lower than in other areas, even with an irrigation system. Oro del Desierto's early harvest significantly reduces yield. It is estimated by producers that an overripe olive will produce almost double the amount of oil as compared with an unripe olive. Consequently, early harvest oils sell at a higher price.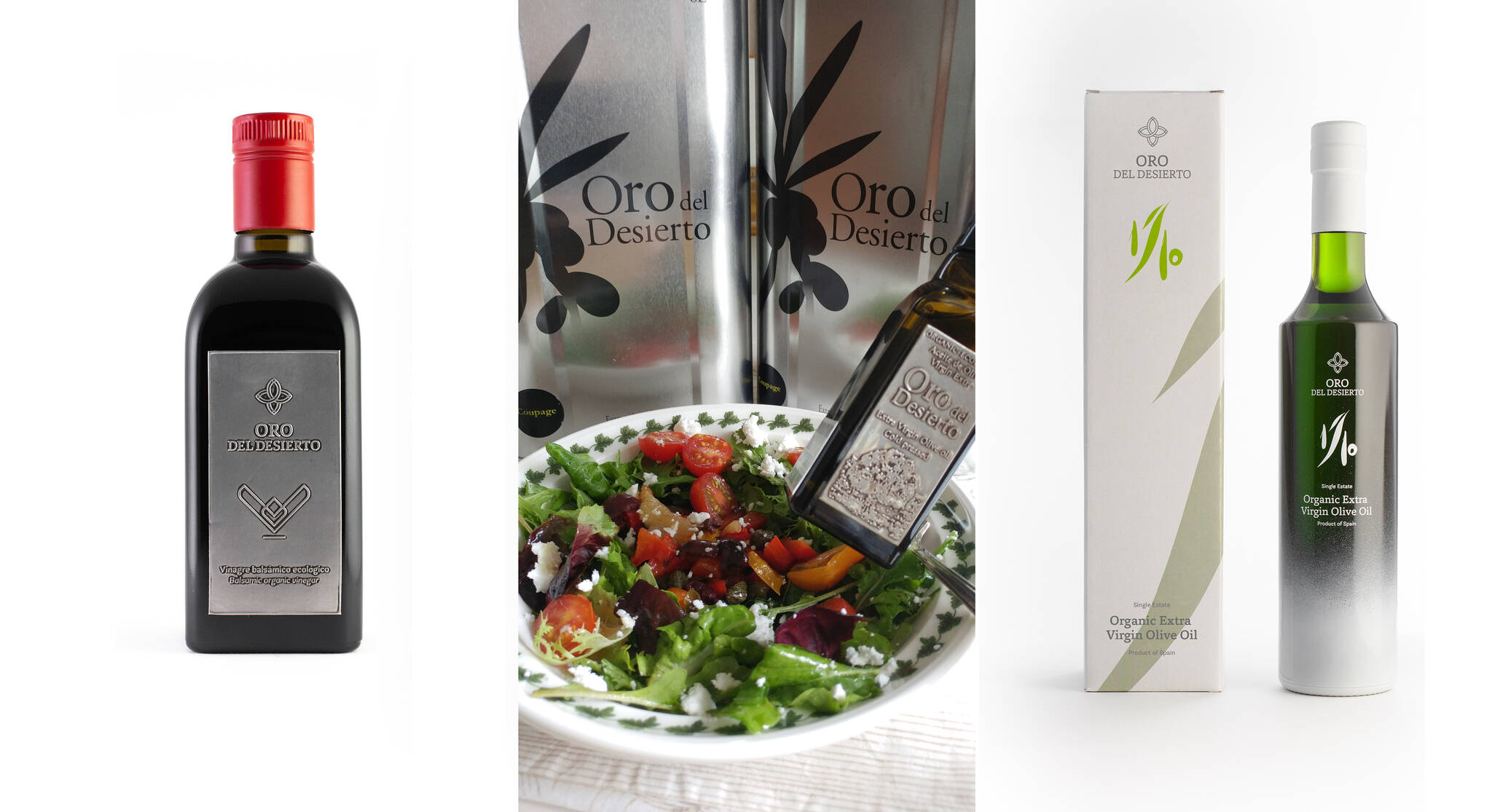 Award-winning 'Coupage' extra virgin olive oil
The Master Miller is charged with creating an award-winning varietal blend year after year. Three of the olive varieties (mono cultivars) grown on the estate make up the "Coupage." The fruity Arbequina, the medium intensity Hojiblanca and the high phenolic Picual.
When tasting the medium robust Coupage, it's best to move the oil around your mouth for three to five seconds, as you would a fine wine. Inhale the air inside the mouth. It's common to get a tingling in the throat on the very finish.
Coupage has an aroma with touches of recently cut grass, apple, hints of citrus and tropical fruit. It's smooth on the palate with a slight bitterness and peppery finish. You may taste a nuance of green tomato, basil, parsley, mint, almond, or even banana. It pairs well with salads, pasta, goat cheese, soups and stews — and also pairs very well with dark chocolate.
A taste of Spain in Oak Bay
Judy and Jeff Lilly lived in Spain for 12 years before returning to Canada and starting Spanish Gold Imports, bringing premium olive oil to British Columbia.
"Our history with the Rafael Alonso Aguilera family goes back to 2001 when we first visited Oro del Desierto and purchased a bottle of Coupage," Judy says. "During our years living in Spain we tasted many EVOOS but our favourite was and is Oro del Desierto. Returning to BC we noticed that premium Spanish EVOOS were under represented on the shelves and so began our journey. We are honored to be the BC importers for Oro del Desierto."
Find the full line of Oro del Desierto at Urban Grocer at The Junction of Fort Street and Oak Bay Avenue, or visit pangold.org to find other retailers.