Oak Bay and the province aren't far off each other in identifying a need for housing in the municipality – but beyond that, the district can think of a dozen ways the province can help the municipality house people.
A 2020 Oak Bay housing needs report shows need for 647 units, while the province recently called for 664 net new units under its Housing Supply Act.
When the housing targets for 10 municipalities in the province were announced Sept. 26, Oak Bay revealed its letter dated Sept. 14 to the provincial minister of housing Ravi Kahlon outlining concerns and capabilities.
The approach to date is based primarily on need and does not fully consider the varied capacity of municipalities, says the 10-page letter, signed by Mayor Kevin Murdoch that outlines 12 requests to "support the district" meeting those expectations. The letter said the community's limited land availability, aging infrastructure and comparably small planning department will make it a challenge to meet the provincial targets.
RELATED: Victoria, Saanich, Oak Bay must build 10K housing units in 5 years: B.C.
The dozen requests are district-divvied into areas focused on targets, monitoring and reporting; municipal-provincial relations; balancing community priorities; transparency; information sharing and relationship building; and provincial action to explore opportunities.
Oak Bay's 2020 housing needs report estimated a five-year need for 647 new units of various sizes. Current development falls well short of meeting those needs, leading council to outline a set of Council Priority Projects for the term ending in 2026 aimed at "creating conditions to facilitate development."
Oak Bay councils have long noted limited vacant land, land assembly, industrial land, commercial parcels and the overall high cost of properties as hurdles to housing development. Those are in addition to current constrictions such as shortage of construction labour, rising construction costs and increasing interest rates that exacerbate housing supply and affordability.
Oak Bay also asked for provincial resources to undertake site-specific feasibility studies of the district's limited land options to evaluate the potential for housing projects. The letter later asked that the province work with the district and University of Victoria to support the development of a university-owned property on Cedar Hill Road.
RELATED: New housing targets call for more than new 60,000 units in 5 years: Kahlon
On Friday (Sept. 29), Kahlon said legislation is coming that would allow duplexes, triplexes and town homes to be built on land currently zoned for single-family detached homes.
Kahlon added that government will be working with local governments, various partners, including not-for-profits, and the construction sector to help identify zoning challenges.
"My message to the local government is, 'We hear you on your advice,' but it is time for us to get going and get this type of housing built in communities so that we can have housing for people, but also vibrant, healthy communities," Kahlon said.
The district letter also cites transparency as a concern, as the province required confidentiality throughout the early process, keeping municipalities from engaging with the public. Oak Bay's Sept. 14 letter called for an end to that and asked that the province make public all of the meeting materials supplied by the Ministry of Housing to the first 10 municipalities throughout the summer meetings.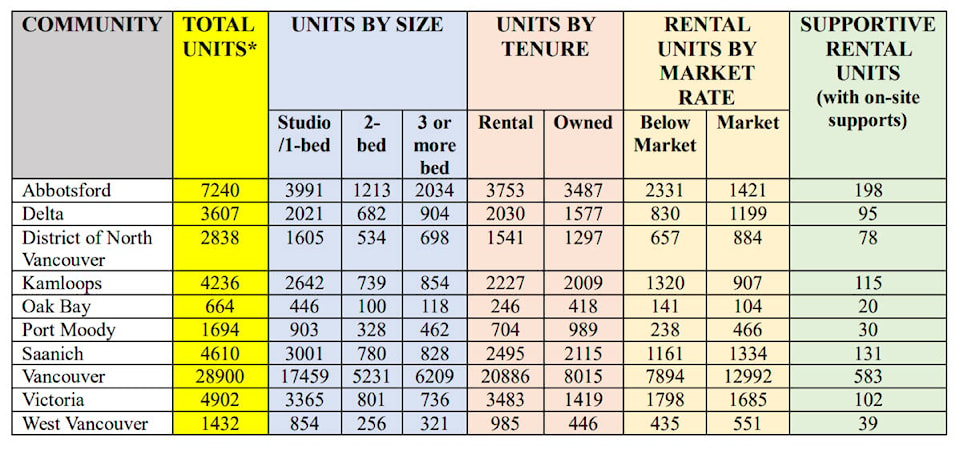 "Public transparency and input are core principles of both good community planning and democracy. We are happy to have this dialogue enter the public realm," Mayor Murdoch said.
Oak Bay had also asked the province to amend target monitoring and compliance to equally evaluate progress toward implementing a policy framework and development application process.
As a community with limited or no larger-scale developments in the pipeline, the district also asked that the housing target measure building permits issued, as well as occupancy. Oak Bay also asked to participate in developing a revised timeline considering constraints and opportunities (that recognizes 141 below-market units and 20 supportive housing units would rely on external funding and partnerships).
READ ALSO: Victoria says feds owe the city $28M for streamlining housing process
The province said it will monitor progress and work with municipalities to better understand challenges and opportunities. Municipalities will be evaluated after six months, then yearly.
Specifically citing the Community Charter on municipal-provincial relations, the letter asked the housing order program approach include additional resources to enable local fulfillment of the new responsibilities.
Oak Bay later also asked for ongoing, non-conditional, provincial funding to enable local fulfillment of the new responsibilities associated with the Housing Target Orders and BC Homes for People Action Plan.
The bill provides a framework for housing targets for specified municipalities and actions if housing targets are not met.
Oak Bay council plans to host an open meeting "to determine next steps" after staff have reviewed the housing target order with the 12 earlier requests.
A second cohort of eight to 10 municipalities are expected to be selected and notified in late 2023.
- with files from Wolf Depner