Having lived in Victoria for three years now, I am still finding that there are new gems in this city I'm constantly uncovering. And with food becoming such a foundation for personal well-being and also social connection, I've become more and more interested in what this city has to offer for local food shopping experiences. What's unique? Where can you find something really adventurous, delicious or new? And what are the stories behind these locally owned businesses?
Food is where people connect. It's tied to culture, relationships, health and community building. There is so much diversity in this city and also some incredible stories behind some of our locally owned international markets, bringing unique flavours from around the world.
Fig Mediterranean Deli, 1551 Cedar Hill Cross Rd.
Owner Youssef not only stocks Mediterranean delicacies but also anything his customers need from around the globe
When I meet Yasser Youssef, owner of Fig, he immediately makes me feel at home. "Have you eaten yet? What do you want for lunch?" he asks. I tell him I've eaten already but he makes me something I can take home: a flatbread with Za'atar, a savoury Middle Eastern spice blend of dried herbs like thyme, oregano, marjoram, sumac, sesame seeds and more.
Out on the deli's sheltered patio, he is equally welcoming to the customers enjoying an afternoon bite, asking them how their day is going. He seems to know most of them and they all seem delighted to be there.
"You've got the best patio in the city!" one man exclaims.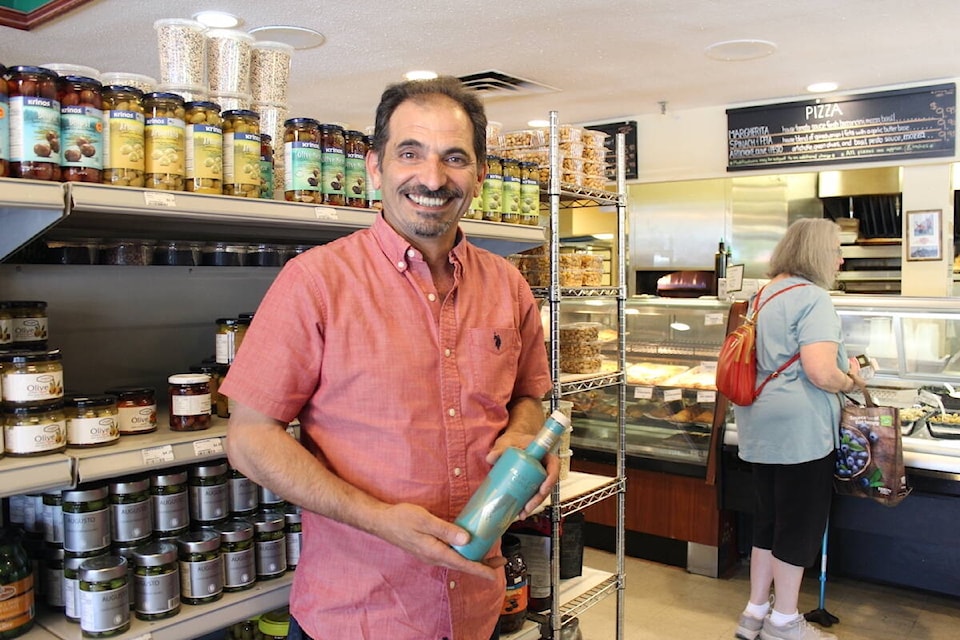 Fig Mediterranean Deli has been in the neighbourhood since 2002, started by Youssef, who immigrated to Victoria in 1985 (when he was 17) from Lebanon. He left his country to escape poverty and the Lebanese civil war. Today, he is the father of four and enjoys running the deli, which has become a much-loved staple in Victoria.
The store offers authentic Middle Eastern flavours. Youssef explains that the whole Middle Eastern region shared the same culture for 500 years under the rule of the Ottoman Empire, which is why there are so many shared foods, like olive oils, grape leaves and cheeses, among many different countries. World Atlas states that there are 18 countries considered to be Middle Eastern, with the majority being part of the Arab world.
Fig is both a deli with food made hot on site in the large kitchen – which includes a fire stove, and a menu with items like donair, falafel, souvlaki, and traditional flatbreads – and a grocery, that offers a huge stock of Mediterranean goods like olive oils, dates, spices, meats and cheeses. Some customer favourites are the walnut dip, Bulgarian sheep milk feta, the fatoush salad, spanakopita, tapenade and fresh olives.
Youssef, however, doesn't limit himself to what he stocks and he is always finding new things based on what his customers want. "When my customers ask me for whatever, if I have the room and I find it, I bring it," he said. Most recently, he is bringing in items that Ukrainian refugees and Slavic immigrants would appreciate.
His desire to connect people with what they need is in part how he came to start the deli. He had worked in restaurants before in Victoria, and ended up opening a small shop. Customers were asking for olives, olive oil and good quality cheeses, plus many chefs that he knew were looking for specific ingredients like preserved lemons, Harissa paste, sumac and other more unique spices.
"I started collecting them and over the years I just had a great collection of customers and product until I realized that that whole shop was too small for us," he said.
Fig has been at its new location for 10 years.
Youssef is known to work with the Inter-Cultural Association of Greater Victoria. He has donated lunches to the ICA's programs and also prepared baskets of food to welcome Syrian refugees when they came in 2016.
ALSO READ: Saanich's Fig Deli reaching out to refugees with a taste of home
"Whenever they have a function, we're part of that community … It's a lovely feeling of community. And ICA, you can almost say it's a place where you can exercise this community."
What is perhaps one of the greater challenges for Youssef is keeping the store fully staffed at this time. With such a large location, he said he needs a staff of at least 15 to run smoothly for the day, and the current economy means high staff turnover. He said, however, he still looks forward to coming to work every day.
Ask him about olive oil or any other of his products and he can go into an animated dialogue. (He is a wealth of knowledge, explaining that each olive presses a different flavour of olive oil, that polyphenols are the good stuff in it for your heart, and that a burn at the back of your throat is the sign of a good, flavourful olive oil.)
And at the end of the day, his favourite part?
"The people."
A&T Grocery, 561 Fisgard
When life gives you COVID, make friends with 1,000 masks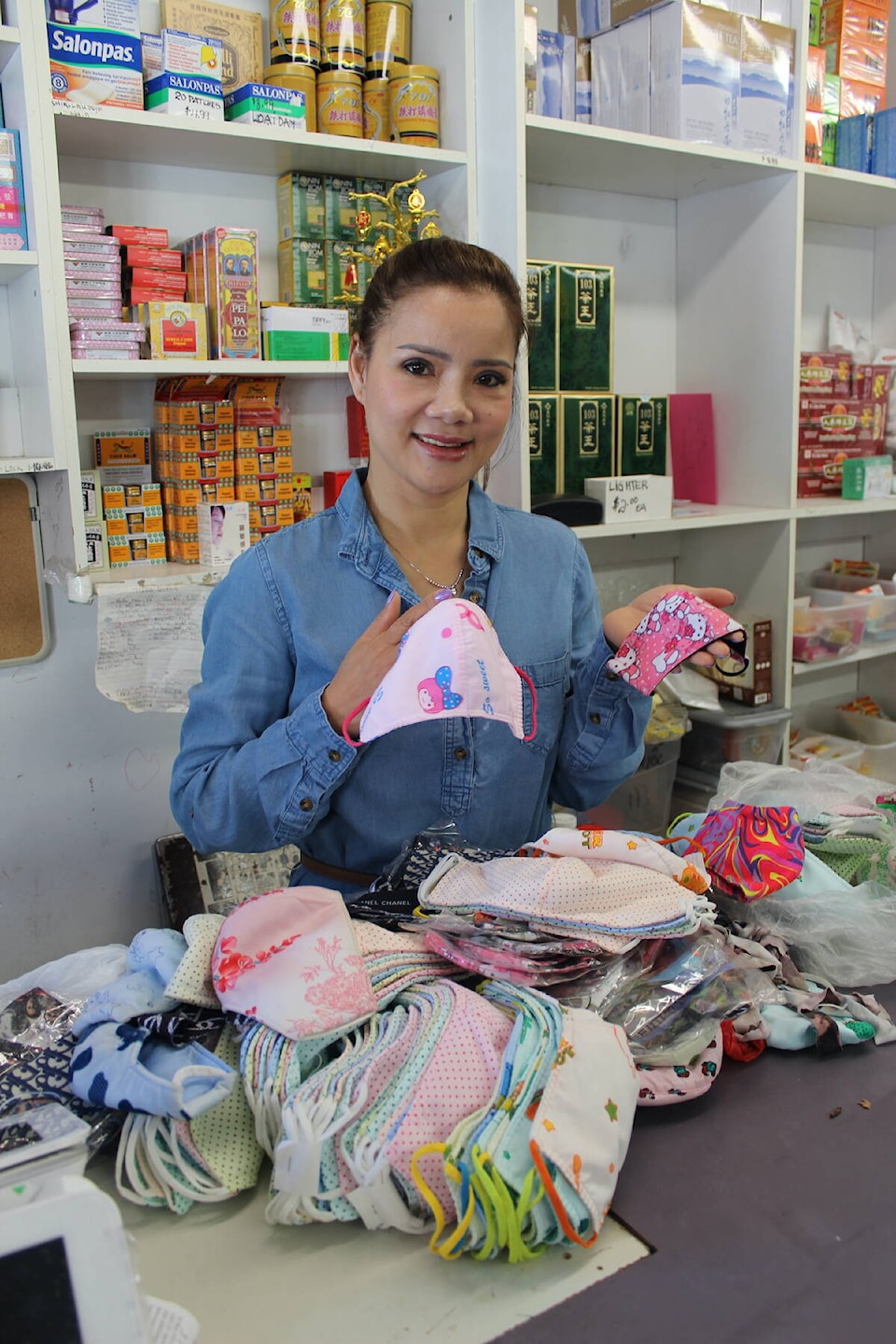 In the first few weeks after taking over A&T Grocery, a Vietnamese and Thai grocer, co-owner Brooke Nguyen remembers many nights of putting her two-and-a-half-year-old daughter down to bed, then staying up til 2 a.m. to make more than 1,000 face masks.
Nguyen and her husband, Andy Nguyen, signed the lease to take over the business just two weeks before COVID-19 hit.
"We took the key over on March 15 – I never forgot," Nguyen said.
"When we started at that time, it was very very difficult and of course, at that time I feel a breakdown … it was still very, very difficult to go back and forth from Victoria to Vancouver for stock … My husband is a new driver – he just got his driver's licence – and he had to drive there, so that was a big challenge.
"People were coming into the store asking for masks, and we didn't have the medical masks to give to them."
Nguyen looked into medical masks and when she realized they were disposable, she thought there could be a better way.
"I'm thinking, I know how to sew, so I started with [making masks out of] pillowcases." Instead of selling the masks, Nguyen decided to give them away. "I could've made quite a bit of money at that time but we decided to give them out for free to help the community."
Customers would also come to Nguyen for Vietnamese recipes during the lockdowns, as cooking became a staple for at-home entertainment.
She still has thank you cards saved on her iPhone from many grateful people.
The Nguyens made it through those trying days: A&T Grocery has since built up its customer base and Nguyen had personal success, becoming Miss Universe Vietnam in 2020 and representing Vietnam again in 2021 and 2022. Today, the store is bustling with tourists and locals in the heart of Chinatown.
A&T Grocery is known in the community for its extensive stock of hard-to-get items. On the sidewalk outside, boxes are lined up filled with exotic fruits and herbs imported from Vietnam and Thailand, including juicy sugar apples, lychees, jackfruits (comparable to the size of watermelons), mangos, basil, and lotus root.
On the shelves inside, you'll find things like Tom Ka (Thai coconut soup mix), ginseng tea, curry pastes, bubble tea, pho, noodles and sauces.
The couple also installed a sugar cane press in their shop in late spring, so customers can enjoy fresh sugar cane juice to go.
Italian Food Imports, 1114 Blanshard
It's all about family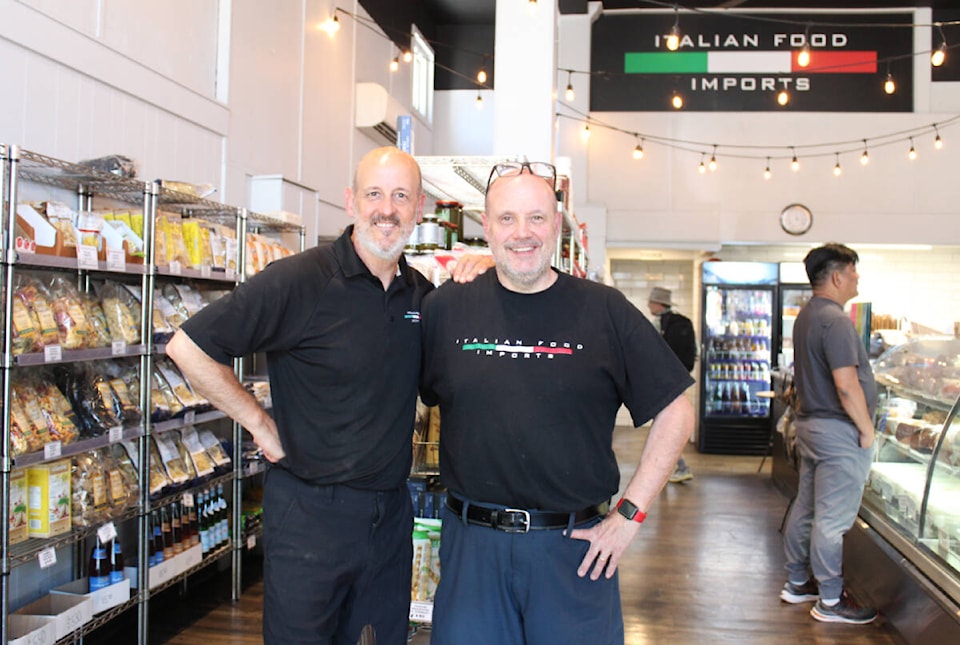 Italian Food Imports is a family-run store in Victoria's downtown that specializes in authentic Italian ingredients, deli meats, cheeses, and their signature paninis. The store is owned by Maurizio Segato and his brother, Massimo, but even the non-relative employees are considered family.
In an industry with high-turnover rates, it's rare to hear of a company with an employee track record like Italian Food Imports.
"Our shortest-term staff right now, she's been here over a year-and-a-half, and the other employees have been here six-and-a-half years, five-and-a-half years, five years…" Maurizio Segato said.
"They're not just a number, we count on them just like they count on us. We offer steady hours throughout the year and we've created a family atmosphere. They're not family, but in a way, they are family cause they've been around for so long. We've gone through – unfortunately lost both of our parents the last years here, and they've lived through all that with us."
Segato's parents, Caterina and Ivano, originally acquired the store in 1985, and the brothers have since taken it over.
Having those steady employees contributes to the personable neighbourhood deli feel, providing an atmosphere where the staff is passionate about what they're serving and can build relationships with the store's customers. Segato said it's part of the magic that's kept people coming back for more.
Lunch hours at Italian Food Imports are typically a steady and fast-paced stream of orders. Most people are ordering from the panini selection, which includes items like the signature meatball panino with "Momma's Meatballs", provolone cheese and house-made tomato sauce, and other Italian classics like the Muffalatta, la Bomba, and the Calabria. Fresh ingredients are incorporated like juicy bruschetta, marinated pepper spread, balsamic onions, house-made aioli (flavoured with things like artichoke), and meats.
"It's always fresh … My niece actually worked for a supermarket and she said it literally took them about two-and-a-half months to go through one prosciutto that we go through in a day or two," Segato said.
The grilled paninis are offered at a reasonable price of $10 plus GST.
"We try to keep our prices reasonable and offer a good product and provide good service," Segato said.
The store also sells items like imported pasta, olive oils, balsamic vinegar, tomatoes, pickled vegetables and other Italian favourites. Some rare-to-find items include parmesan of different grades from Italy, and the hard-to-find guanciale, an Italian cured meat from pork jowl which is also the shining star in carbonara.
"That's really hard to find," said Segato. "People come in for that cause they know we have it."
In his own humble way, Segato can't speak to the success of the business without thanking his customers.
"When we started, there were customers that had kids and now their kids are having kids. Again, it's that relationship with that customer. You get to know customers' names. Without customers you're nothing and we're really lucky to have a great clientele."
The Wooden Shoe, 2576 Quadra Street
The cow means they're open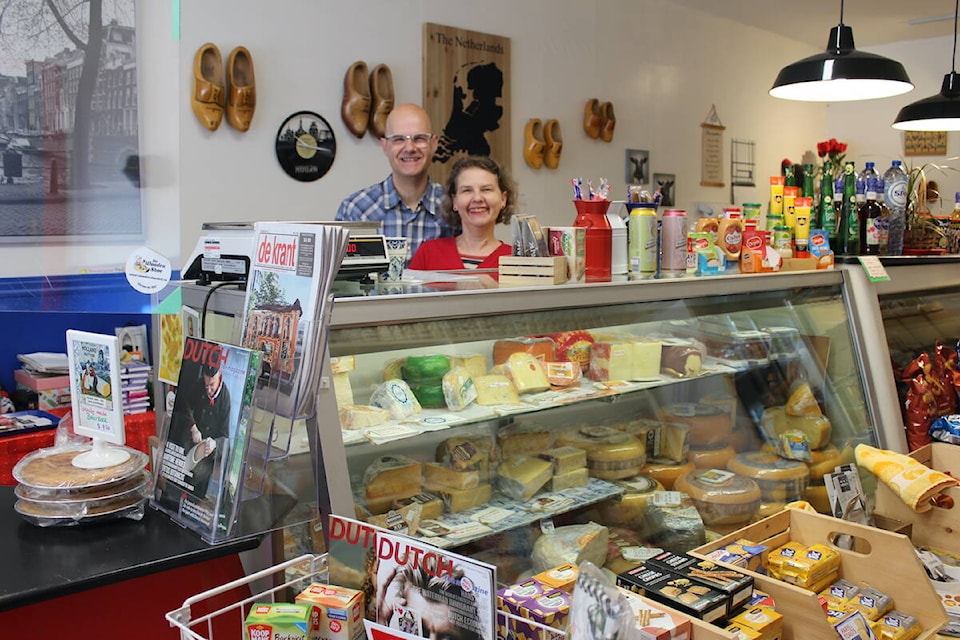 The Wooden Shoe is a specialty Dutch store that has Dutch groceries, a delicatessen, gifts and kitchenware. They are most known for having 75 kinds of licorice, over 20 kinds of Dutch cheese and an impressive Indonesian section.
"Licorice is a big and important part of the Netherlands, and Dutch people eat it as a treat. That's why there are so many different varieties," owner Eric van Zoolingen said.
The cheeses are imported from northern Europe, including countries like the Netherlands, Germany and Denmark. Some of the best-sellers are goudas and vintage cheeses, which have been ripened anywhere from 12 to 36 months to get their rich flavour. Van Zoolingen recommends customers try the medium gouda: "It's very nice to try and very flavourful." Another customer favourite is the Rembrandt Aged Cheese, an extra-aged gouda that is ripened for over a year and was voted best cheese in the World Championship Cheese Contest in the U.S.A. in 2004.
The Wooden Shoe also sells the well-known Dutch brand Beemster cheese, produced in Northern Holland where the countryside is ripe with fertile grazing land. In fact, a Beemster cow statue has become one of the personal quirky trademarks that the van Zoolingens have brought to the store.
"A lot of customers recognize the cow [outside] as, 'OK, they're open,'" van Zoolingen said.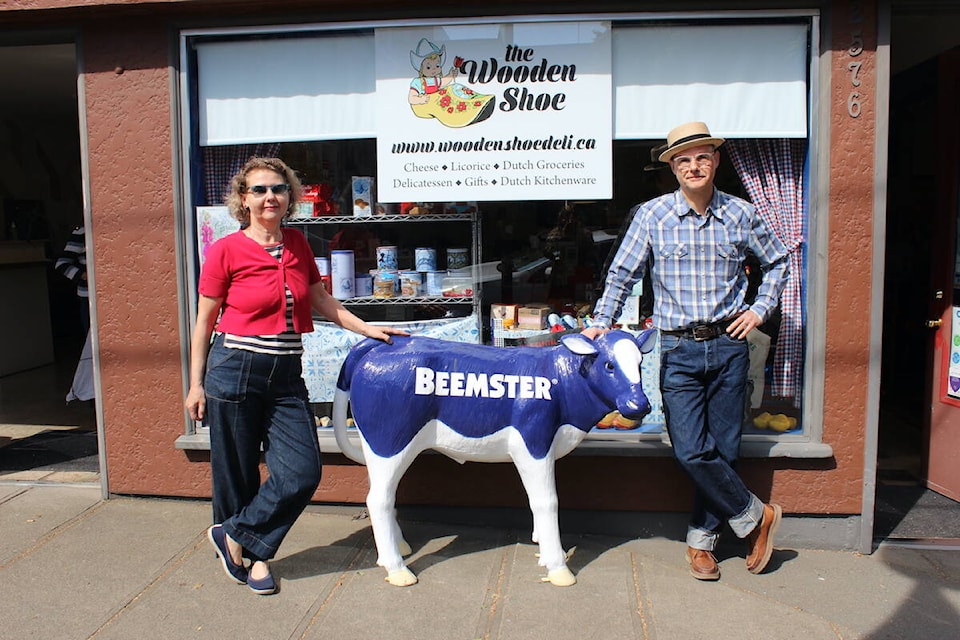 The store's Indonesian section offers a popular selection of Sambal paste, made from chili peppers with secondary ingredients such as shrimp paste, garlic, ginger, shallot, scallion, palm sugar, and lime juice. Van Zoolingen said it is a popular item as Thrifty's no longer sells it.
Because Indonesia used to be a Dutch colony (the Netherlands government ruled the colony from 1816-1941), Indonesian food is typical in Dutch culture.
Eric van Zoolingen and his wife, Nicolette, took over the store together in 2019. The store was originally started in 1956 by the Olivier family on Cedar Hill and they eventually opened up this second location on Quadra Street.
The van Zoolingen couple moved to Victoria from the Netherlands in 2005, and Nicolette began working in The Wooden Shoe as a part-time employee after the birth of their daughter. When the business came up for sale in 2019, Eric thought it was a "nice opportunity" to start their own business, eager to leave his office career in IT behind him.
The store was also a little piece of home. Not only are the walls lined with products that remind the van Zoolingens of their life and culture in the Netherlands, but the community of customers they have met has allowed the couple to form some heart-warming connections.
"We just had a customer who is 91 who grew up in our hometown, which is pretty unbelievable but it's true," van Zoolingen said.
For anyone who'd like to step into The Wooden Shoe, just look for the Beemster cow and there will be friendly faces offering warm hospitality inside.
And next time you take a step into any locally owned international market, take a chance to chat with the people behind the counter. They might have some great stories to share and some delicious recommendations.
SEE MORE: Best of the City, Victoria 2022
---
Do you have a story tip? Email: newsroom@vicnews.com.
Follow us on Twitter and Instagram, and like us on Facebook.