This is part two in a special series prepared by Black Press Media. You can find more of the series and other articles on truth and reconciliation online here.
This article contains descriptions of abuse that may be triggering. Support for survivors and their families is available. Call the Indian Residential School Survivors Society at 1-800-721-0066, or 1-866-925-4419 for the 24-7 crisis line.
From a distance, a young Rob Sam watched on as his grandfather worked away, whether it was harvesting every piece of a deer or crafting a new drum from scratch.
Around the age of seven, he asked what his grandpa was doing and the elder took Sam's hand and pressed it against a deer hoof being worked on.
"I started to get that feeling of belonging and then permission, permission to continue carrying on what he's doing," Sam, whose traditional name is qw 'a la tth'ut, said of the introduction to his culture.
He now serves as the Indigenous liaison of the Pacific Centre Family Services Association, which offers a range of counselling and social services to those on south Vancouver Island.
With Canada again set to reckon with its treatment of Indigenous Peoples this National Day for Truth and Reconciliation, Sam is one who isn't heard from as much, one who doesn't have many personal stories from the harms.
The WSANEC territory member instead sees himself on one side, as one of the few who were protected. The other end hosts those who were exposed to the trauma of residential and day schools, including multiple generations of his family.
"Sometimes I wonder, how did that happen? Why did that happen?"
Sam had to attend the Tsartlip Indian Day School for kindergarten and part of Grade 1 before his grandparents helped pull him out and enrol him in the Brentwood Bay public school.
"After that, I grew up with very strong teachings from my grandfathers, my aunts, my uncles and my parents."
Those teachings included grandfathers showing him how to make deer-hide drums or how to honour all living things. His aunt always told him to keep his mind strong, while uncles would call him over during cultural events to explain what was going on or would show him how to use the Hul'q'umi'num language, whether he was addressing a filled longhouse or consoling a grief-torn friend.
When he was young, Sam didn't realize what those family members were instilling in him. Those bits of traditional knowledge were seeds being planted, ones that would see him grow into a healer of hurt souls all across Coast Salish territory. Whether it's answering the call of any ceremony that needs his presence or his role at the Pacific Centre, his ancestors' knowledge guides everything Sam does.
He sees now what his family saw during his childhood – that by shielding him from the horrors others experienced at residential and day schools, Sam could become someone who would be greatly needed, someone who could help.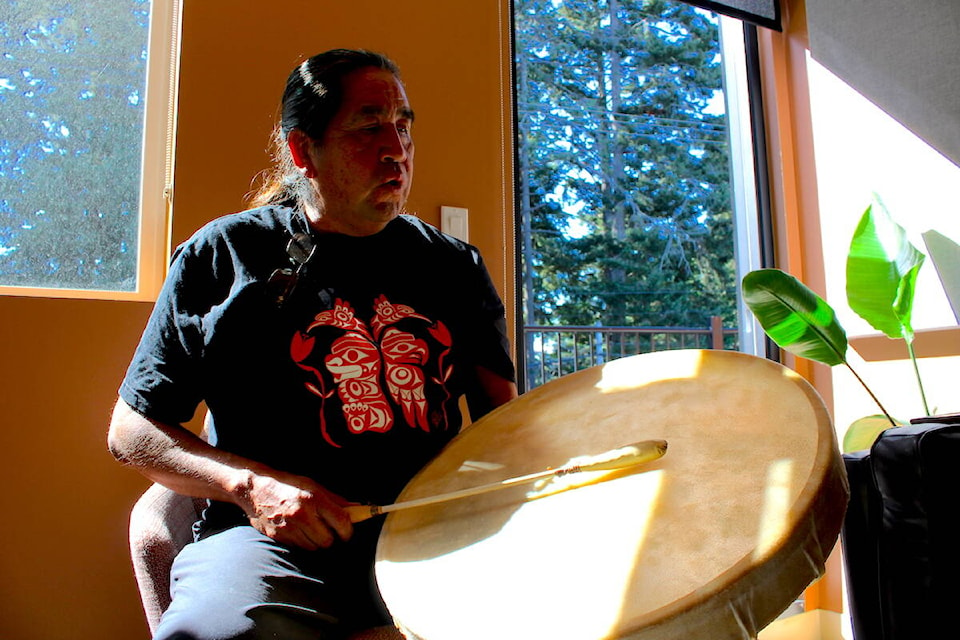 The Canadian government- and church-run day schools differed from residential schools as students got to go home in the evenings, but the children were still subjected to anti-Indigenous assimilation along with physical, mental and sexual abuse.
A federal court this year approved a $2.8-billion settlement agreement between the Canadian government and plaintiffs representing members from 325 First Nations. The settlement stemmed from a 2009 class action lawsuit brought on by day school survivors. The lawsuit said some of the abuse was severe while students were also mocked, denigrated and humiliated by day school staff and officials over their Indigenous culture and language.
Throughout his life, Sam has seen the pain caused by the institutions – both directly inflicted and intergenerational – and how those impacts have surfaced in the way of anger, sadness or survivors closing themselves off from others. Kids he knew would come home showing physical scars of the abuse from the day school.
Sometimes at the lacrosse box or soccer field, he'd notice his friends holding one side of their head and when he asked if they were OK, the response would be a swift "yep." Later on, he learned kids would have their ears pulled at the day school.
"It was tough. In the back of your mind, you know there's something going on. I always tried to find a way to help them."
He travelled the province for sports in his teens, with one basketball tournament in Mission seeing his team housed in the community's residential school. The overnight stay coincided with several teammates having nightmares, while he also recalls the unease of locals when he played soccer at a field just down the hill from the Kuper Island residential school.
Sam worked in construction for many years until his dad said he didn't want him doing that job forever. That led to him joining his father, who had become involved in ceremonial brushings for people working at archeological sites. His dad passed away not long after and that's when Sam's mother called on him to finish what his dad started.
He was then scouted into positions at the Ministry of Child and Family Services, where he'd hold coordinator roles dealing with Indigenous culture and elders. Word of his work eventually found Liz Nelson, who heads the Pacific Centre. The executive director remembers Sam's excitement about the liaison role in their first meetings, and how he would say, "We can help so many people."
"That's why I'm here today … I'm here to help," Sam said. "We've seen all the different emotions we can see and there are different ways of dealing with those emotions."
"For someone like me, trying to understand what they're going through, it's hard, it's hard to understand what (survivors and their families) are working with, dealing with and trying to live with."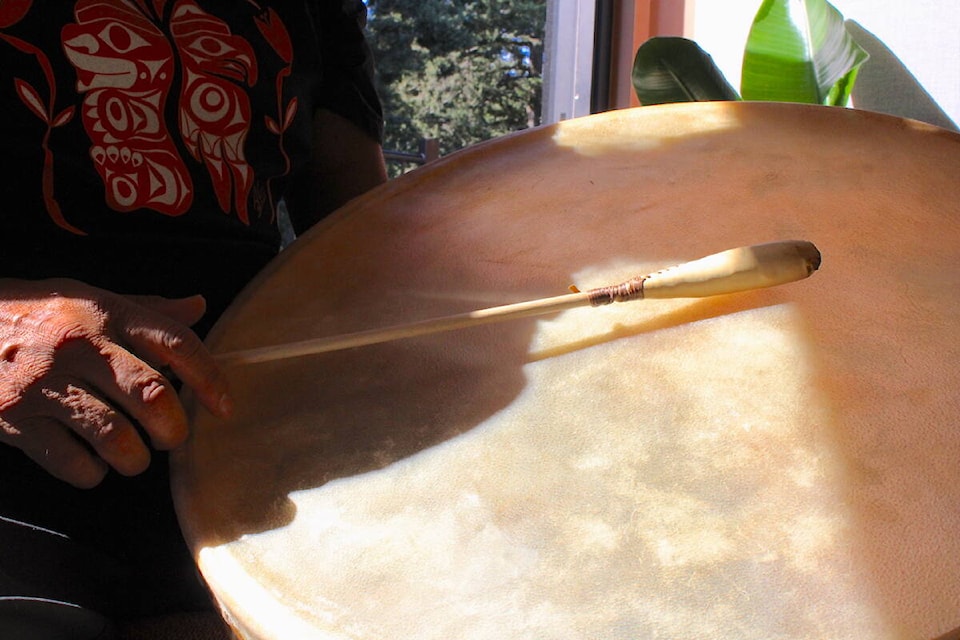 While still in construction, he started to get called to more and more ceremonies around the south Island or in Washington state. Some of those included ceremonies held with the community in longhouses that would aim to rid the hurt felt by many inside.
"All the hurt feelings that people have when they're coming in, sometimes it magnifies, and you have to be strong to clear it out of that house."
The ceremony Sam spoke of was one of the cultural events that Indigenous communities were banned from holding during the 1900s.
He's also regularly called on to help steer individuals as they are initiated in longhouses. Many of those he's guided through the spiritual process feel like children to him and will still greet him with a 'Hey pops' even though their initiation was decades ago.
Those tight bonds with a widespread community also mean Sam can tell when people are struggling. He can gauge whether those hurting need his support or some space, and when all he can do is ask how they're doing.
Some kids today don't always understand what their older family members went through in the residential institutions, he said.
Sam points to a story told by his uncle, where the ripple of a pebble tossed into a still pond turns into a crushing wave by the time it reaches the far shore. The story has manifested in his community with younger generations still impacted by residential and day schools. Sam has seen folks hide when people come to the door, just as their relatives would.
"It's because of that fear that they're going to get taken, that's from way back but it still affects our children today."
The intergenerational impact on today's youth comes in several forms. Some are scared of medical appointments – which Sam can relate to as he recalls the fear of lining up with other kids for harshly done dental work at the day school. Other kids he's worked with have talked about being excited about school, but then they become afraid to go.
"It's one of those things that have carried on from residential and day school. It's still there and we need to find a way to break that cycle," Sam said, noting people today are also dealing with harder varieties of substances, which complicates their healing journey.
"There are ones that just can't get away from that harmful stuff and it's not their fault, they're dealing with all the trauma that their family went through and is still going through."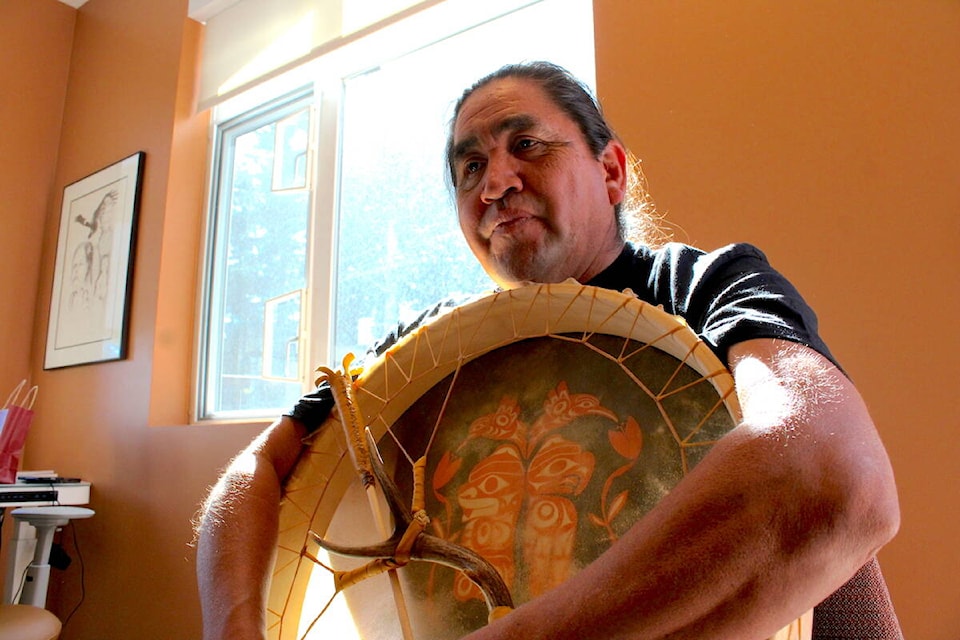 He feels fortunate to receive the teachings he did, which can make a huge impact on those still struggling. People light up when he infuses culture into their care and it's been rewarding for him to pass down teachings to his children, grandchildren and the Coast Salish community.
From his Orange-walled Pacific Centre office, Sam picks up a drum from the corner as he talks of the first time his grandfather placed his hand on the deer hoof. Those walking through his door are seeking a safe place, something Sam knows the drums can help provide.
"This drum carries a lot and there was a few that came in and said, 'I've always wanted to drum,'" Sam said, noting some seem almost shocked when he offers to teach them a beat or a song, and they commonly remark on how good it feels after just a few hits to the hide.
Sam's arms wrap around the drum, pressing it tight to his chest so that – with the light of the mid-day sun shining through his office windows – the design of his Orange Shirt Day T-shirt appears through the deer hide. At any Indigenous gathering, he said you'll see others holding their drums close just as he does.
"It's protecting them," Sam says. "It's a big part of who we are and it's a big part of healing."
READ MORE: Stories about truth and reconciliation