You have to give credit to VinFast, the Vietnam-based automaker that's rapidly expanding globally. The fact that it's doing so after only four years in existence is a testament to the sheer audaciousness of the Vingroup conglomerate.
Along with automotive, motor-scooter and transit-bus manufacturing, Vingroup's Vietnam ventures include commercial and residential property development plus hotels and resorts, healthcare technologies and universities.
VinFast showed vehicles at the 2021 Los Angeles Auto Show and announced its intention to market electric vehicles in Canad by early 2023. North America production is expected to begin in 2024 in North Carolina.
The VF 8 will be the first of several electric models eventually offered here through a network of company-owned locations starting in Montreal, Toronto and Vancouver. Outlets in other cities will eventually follow.
The VF 8, designed by Pininfarina of Italy, is a handsome five-passenger midsize utility vehicle that's about 13 centimetres longer and five centimetres wider than the Honda CR-V. The distance between the front and rear wheels is greater by about 25 centimetres.
The VF 8's well-appointed interior is equally smart looking, highlighted by a rather complex 15.6-inch touch-screen, which includes the gauge cluster. The shift buttons — the largest to be found on any vehicle — jut out of the floor console. The front seats are comfortable and supportive, while the split-folding rear seat offers decent legroom. Cargo space is also generous, with room available beneath the hood for smaller items.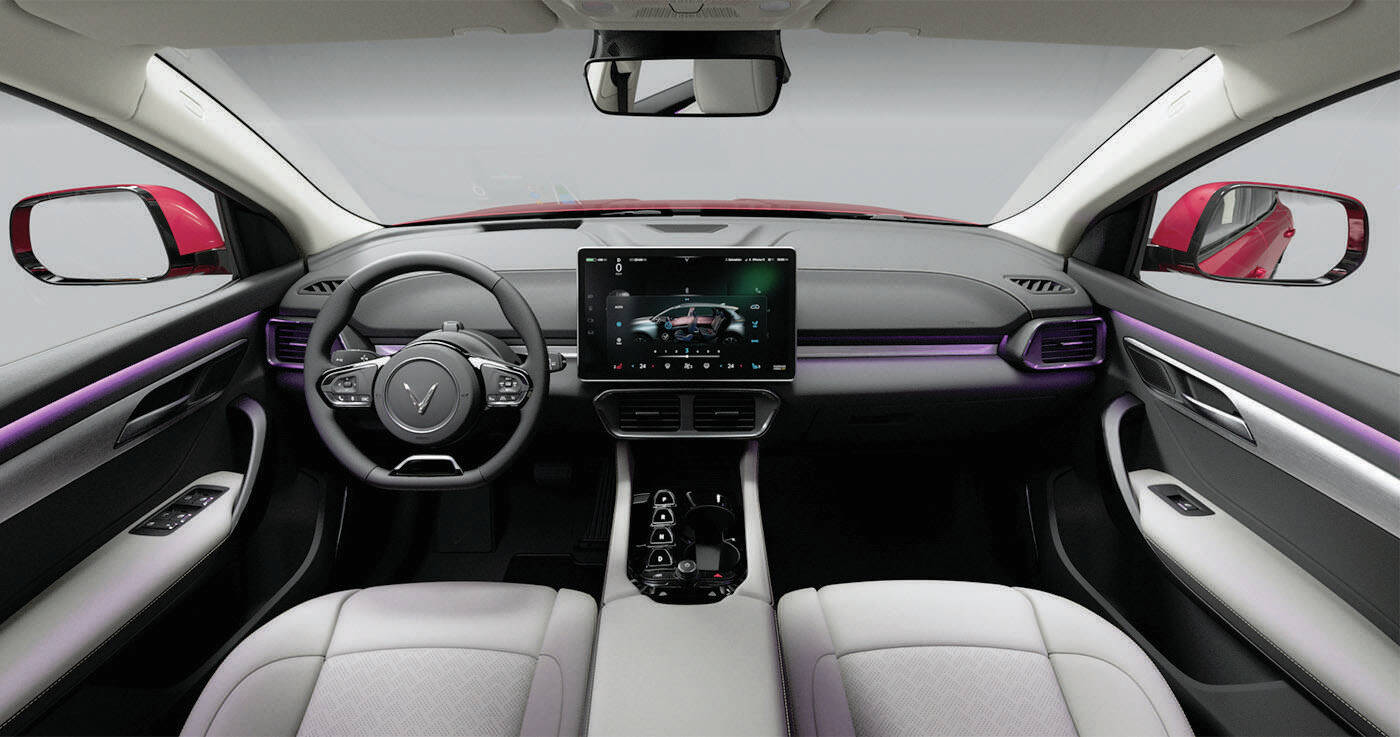 The two VF 8 trim levels — Eco and Plus — are all-wheel-drive, using front and rear electric motors supported by an 82 kilowatt-hour battery pack. The Eco is rated at 348 horsepower and 368 pound-feet of torque, and the Plus is rated at 402/457.
According to VinFast, the Eco can hit 60 mph (96 km/h) from rest in 5.8 seconds, while the Plus drops that to 5.3. It's quick enough for everyday driving, but they are by no means the most rapid in the category.
As for range, the Eco is expected to max out at 490 kilometres. The Plus is rated at close to 450.
According to the company, hooking the VF 8 to a 480-volt commercial fast charger (not a 240-volt home station), will bring the batteries to 70 per cent capacity from 10 per cent in about 30 minutes. At home, expect a full charge overnight.
The driving modes for the pre-production test vehicles included a Sport setting, but it's almost indistinguishable from the Normal mode. VinFast says it will address that before full production begins.
Otherwise, the VF 8 is quiet and comfortable. Unfortunately, the private five-kilometre test course didn't have any rough surfaces that would have allowed the suspension to be explored more fully.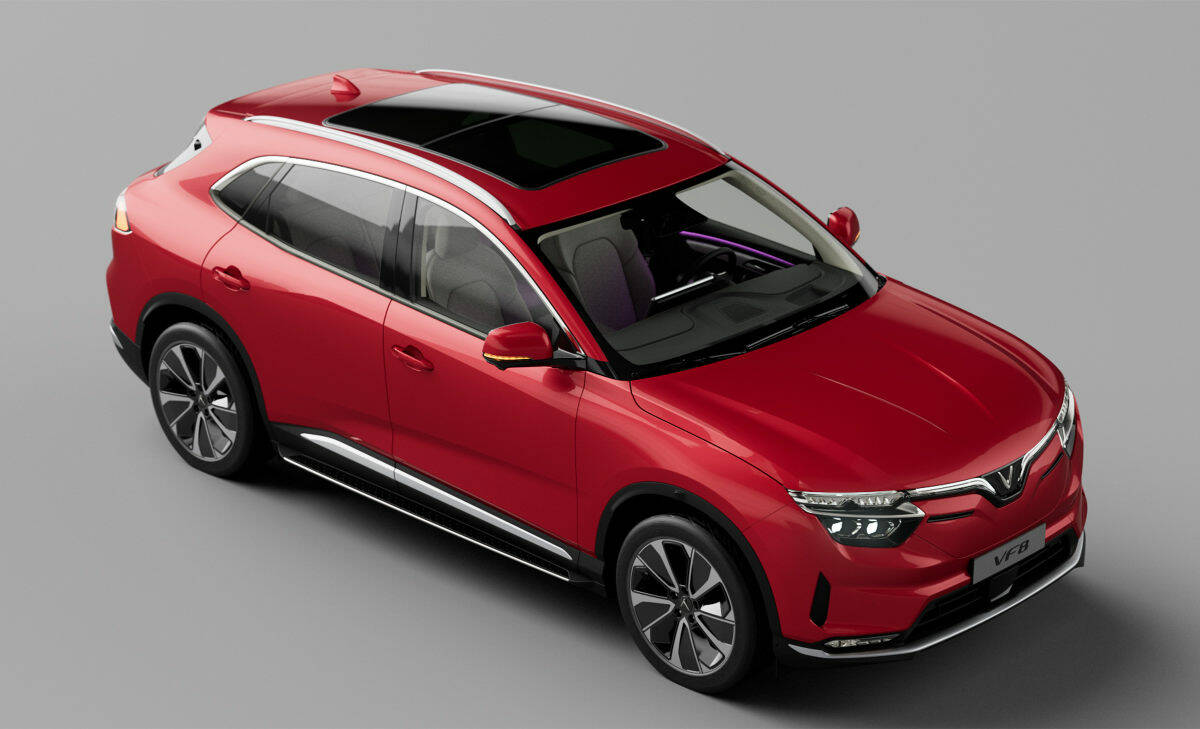 The Eco begins at $51,250 plus the destination charge, which VinFast did not provide by deadline. That price could make the VF 8 ripe for government rebates, but as of Sept. 1, it was not on the list of vehicles eligible for the federal Incentives for Zero-Emission Vehicles (iZEV) program, which provides up to $5,000.
The battery has been broken out into a monthly subscription fee of $39/month plus 0.9 cents per kilometre after 500 kilometres in that month. Alternatively, you'll get unlimited kilometres for a flat fee of $139/month. With either transferable plan, VinFast will replace the batteries if the capacity drops below 70 per cent during the life of the vehicle.
This could affect rebate eligibility, depending on how or if the federal government applies the battery cost to the current base-model iZEV price cap of $55,000.
Standard VF 8 equipment includes a navigation system, dual-zone climate control, heated and power-operated front seats, heated steering wheel and head-up driver information display that projects vital information onto the windshield.
At $69,750, the Plus gets a power-operated panoramic sunroof, leather upholstery, heated and ventilated front seats and an upgraded sound system.
Numerous active safety technologies such as adaptive cruise control, lane-keeping assist are standard.
Will buyers flock to an unfamiliar brand that builds vehicles of unknown reliability? And what about vehicle service without a traditional dealership network? The VF 8's 10-year/200,000-kilometre warranty could help.
As a new player in this country — although not a new car company — VinFast will have to go the extra distance to prove itself. The VF 8, however, seems on par with competitors in terms of features and range, and the battery leasing is an intriguing new pricing model for drivers, especially those who don't rack up a lot of kilometres.
Success will depend on whether buyers see value in the VF 8 and whether they are willing to take that gamble.
— Disclosure: For this First Drive, VinFast provided travel to Vietnam, accommodation and meals, without conditions.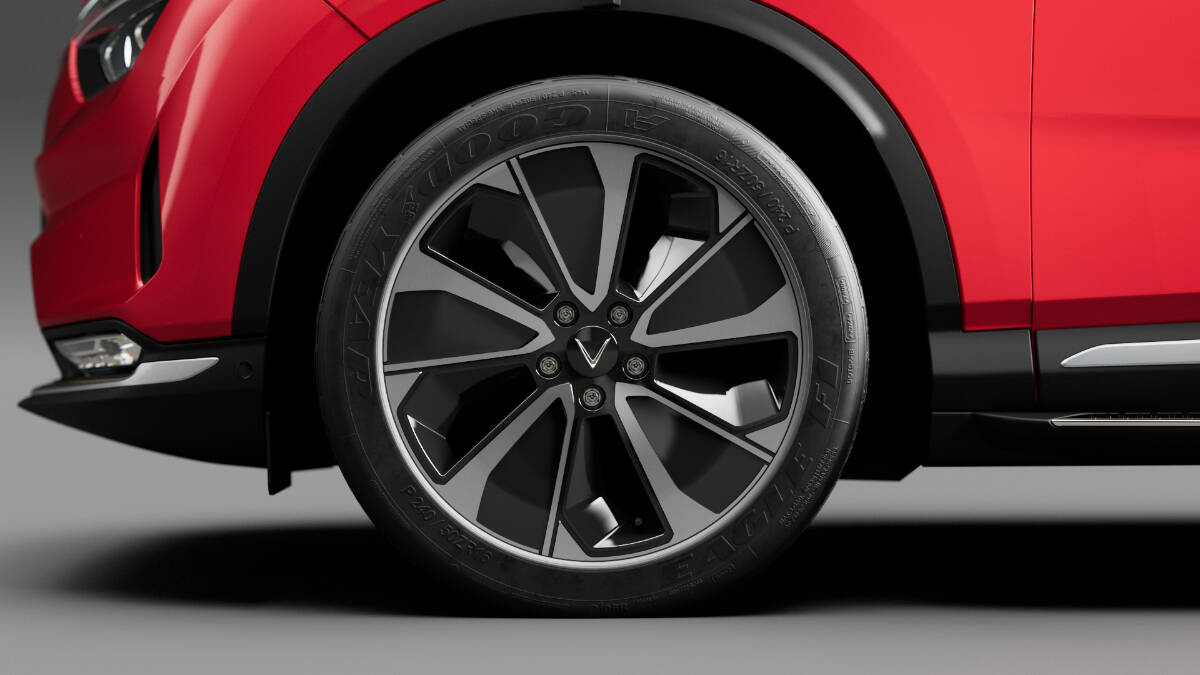 What you should know: 2023 VinFast VF 8
Type: All-wheel-drive midsize electric utility vehicle
Motors (h.p.): Front and rear electric (348/402)
Transmission: Single-speed controller
Market position: The VF 8 is the first vehicle to be imported by VinFast. The Vietnam automaker will follow up with the larger seven-passenger VF 9, expected by mid-2023, before introducing smaller models and possibly a sedan and a pickup.
Points: Styling is best described as conservative. The nose is the most prominent feature. • Extra-large touch-screen will require some familiarization as all the necessary driver information is also there. • Dual motor output is sufficient but not thrilling. • Battery range is adequate, but is less than that of many competitors. • Will battery subscription fees help or hinder sales?
Driver assist: Blind-spot warning with cross-traffic backup alert (std.); active cruise control (std.); front emergency braking (std.); inattentive-driver alert (std.); lane-departure warning (std.); pedestrian warning (std.)
L/100 KMe (city/hwy): n.a.
Base price (excl. destination): $51,250 plus battery lease
BY COMPARISON
Ford Mustang Mach-E
Base price: $53,700
Electric hatch offers up to 480 h.p. AWD version has a 430-km max range.
Hyundai Ioniq 5
Base price: $47,550
In-demand electric vehicle delivers up to 480 kms of range. AWD is available.
Subaru Solterra
Base price: $55,000 (est.)
All-wheel-drive hatch looks good. Range maxes out at 365 kms.
– written by Malcom Gunn, Managing Partner at Wheelbase Media
If you're interested in new or used vehicles, be sure to visit TodaysDrive.com to find your dream car today! Like us on Facebook and follow us on Instagram